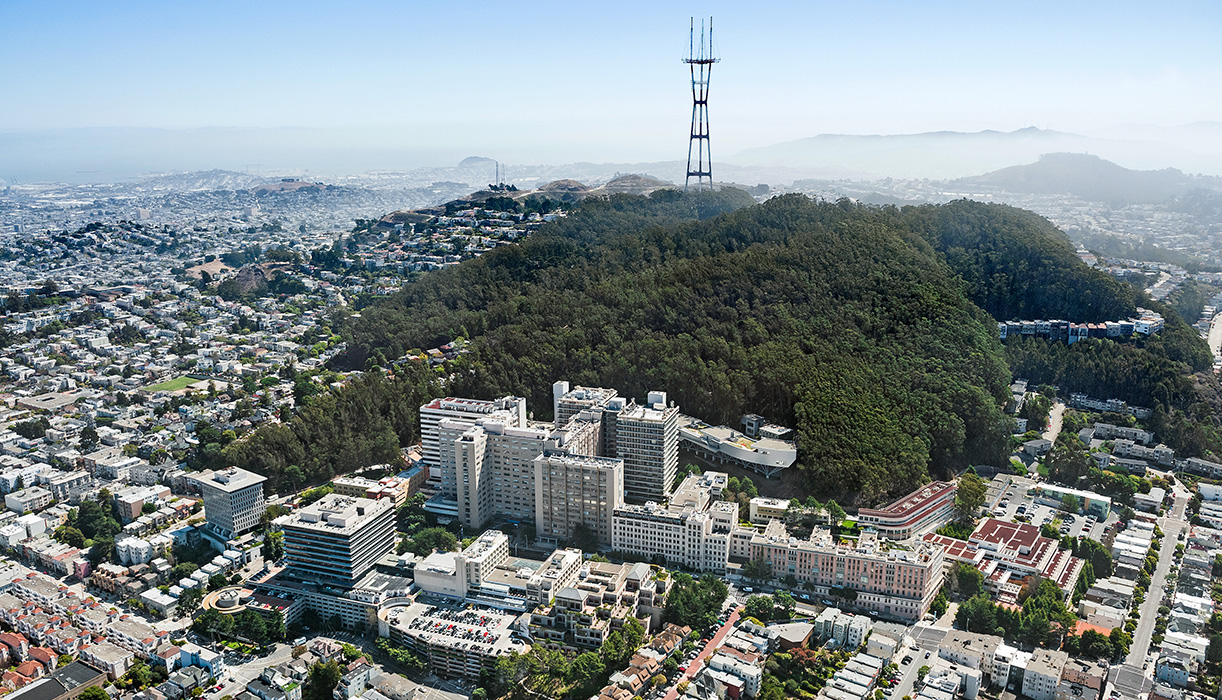 Comprehensive Parnassus Heights Planning
UC San Francisco is developing a bold, transformative vision to revitalize its historic Parnassus Heights campus to sustain its excellence in research, education and patient care and to provide an environment where faculty, staff, students and trainees can do their best work. Planning to re-envision and revitalize the Parnassus Heights campus coincides with and will complement UCSF Health's Strategic and Site Planning initiative to build a new, world-class hospital on the 107-acre campus.
About the Campus
Established more than 120 years ago, the Parnassus Heights campus is UCSF's oldest and largest site and comprises world-renowned basic, clinical and translational research programs, as well as four top-ranked professional schools of dentistry, medicine, nursing and pharmacy and Graduate Division. The Parnassus Heights campus features UCSF Helen Diller Medical Center – rated the No. 1 hospital in California – a Dental Center, outpatient clinics, library, childcare and fitness center, housing, various eateries and offices.
Need for Investment
While the Parnassus Heights campus has evolved with new campus construction and renovation over the years, UCSF's investment has not kept pace with its aging facilities or changes in programmatic need, resulting in infrastructure, buildings and interior spaces that require significant renewal and investment. Now that the development of Mission Bay campus is nearly completed, UCSF is turning its attention to Parnassus Heights to ensure the campus can support the excellence of UCSF's research, educational and patient care mission in the decades to come. This investment includes planning to build a new hospital on the Parnassus Heights campus.
Commitment to Parnassus Heights
UCSF Chancellor Sam Hawgood and his leadership team are committed to rejuvenating the Parnassus Heights campus. Executive Vice Chancellor and Provost Dan Lowenstein and Senior Vice Chancellor Paul Jenny co-chair a steering committee to "define the long-term vision for the Parnassus campus and the design that will enable it." The steering committee is comprised of representatives from across campus and UCSF Health who are developing a Comprehensive Parnassus Heights Plan (CPHP) based on the feedback of stakeholders and with the assistance of Perkins Eastman, a global architecture and planning firm. While the long-term CPHP is being developed, UCSF is continuing to invest in ongoing, visible improvements to enhance the Parnassus Heights campus and ensure the seismic safety of its facilities.
Planning for a New Hospital
In its 2014 Long Range Development Plan (LRDP), UCSF proposed a renewal plan that included the construction of a new facility to replace Moffitt Hospital, built in 1955, to comply with state seismic regulations for acute care hospitals. Buoyed by a $500 million commitment from the Helen Diller Foundation, UCSF has begun planning for the UCSF Helen Diller Medical Center at Parnassus Heights, projecting a need for a larger hospital than what was proposed in the LRDP, due to population growth and growing demand throughout California for the specialty care that UCSF Health provides. The new hospital will be built on the current site of the Langley Porter Psychiatric Hospital and Clinics. The Langley Porter outpatient clinics will be relocated to a new building just south of the Mission Bay campus. The inpatient unit, intensive outpatient program, and partial hospitalization program will be relocated to another site in San Francisco still under discussion. This new hospital will provide an opportunity to:
Expand patient access to specialty care and allow for more rapid responses to the emergency department on the city's west side;

Link clinical researchers and scientists who are pioneering important fields, such as immunotherapy and stem cells, to accelerate translation of discoveries into treatments for conditions ranging from diabetes to neurological diseases to organ failure;

Create a teaching ground to train the next generation of clinicians and scientists in a patient-centered environment that promotes compassion and respect, incorporating the latest technologies and methods, while upholding the highest standards of patient safety; and

Enhance UCSF's ability to recruit and retain top clinicians and scientists, as well as students and trainees.
Engaging the Internal and External Community
UCSF has involved many stakeholders to solicit their input and ideas on the future of the Parnassus Heights campus and hospital, including within UCSF, UCSF Health, and the community at large. To date, in addition to the April 24 town hall meeting, the University has:
Conducted four surveys receiving feedback from more than 4,000 respondents;

Convened three workshops with UCSF leaders, faculty and staff;

Established a community working group comprised of representatives from community groups and the City and County of San Francisco, as well as from local non-profit organizations;

Formed four faculty subcommittees on co-labs, research, education and digital hub, all of which have submitted final reports for consideration; and

Hosted two open houses for the broader community and led one campus walking tour for the community working group.
In addition, a group of committed faculty stakeholders and members of the Academic Senate are working to ensure the Parnassus Heights campus remains a destination for excellence across UCSF's mission areas.
Frequently Asked Questions (FAQ)
We welcome your questions and comments about plans to re-envision and revitalize the Parnassus Heights campus. Please email them to [email protected]
Please visit the FAQ page for answers to most frequently asked questions.
INPUT ON COMPREHENSIVE PARNASSUS HEIGHTS PLAN
Workshop Summary Reports
Working with Perkins Eastman, UCSF held three workshops to provide a forum for participants including UCSF faculty, staff, leadership and the consultant team to discuss the opportunities and challenges of rejuvenating the Parnassus Heights campus. Here are the reports summarized by Perkins Eastman.
January 2019: Preferred Alternative Workshop Summary
November 2018: Plan Alternatives Workshop Summary
July 2018: Blue Sky Workshop Summary
Working Group Reports
UCSF convened four working groups, comprised of faculty and staff representing a cross-section of the University, that met and presented their recommendations to the Parnassus Master Plan Steering Committee. Here are their final reports.
Co-Labs (originally called "Central Research Labs")
This group discussed ideas and several options on how to design a new model for central lab resources on the Parnassus Heights campus that capitalizes on critical personnel, cutting-edge methods, and technologies while maximizing impact and engagement. The group's April 2018 report to the steering committee was received enthusiastically. A 2019 summary of the CoLabs plan is also available here. The launch of phase 1 of the CoLabs (mid-2019) will bring together many of the components of this new initiative on the eighth floor of the Medical Sciences Building. Planning for phase 2, which is designed to incorporate all elements of the CoLabs in a centralized, state of the art facility, is now being integrated into the comprehensive plan. 
Digital Hub
This group discussed a vision for UCSF to be the premier university in the world by "streamlining Digital Health at UCSF to seamlessly support the needs of clinicians, researchers, trainees and external partners and allowing current UCSF Digital Health assets to work together to deliver a true Learning Health System." Read more.
Education
This group looked engaged with stakeholders in all education mission areas, including students, adopted the UCSF 2030 education space values, developed guidelines for implementation of its recommendations, issued a call for innovative education proposals (which garnered 14 responses) and worked with Perkins Eastman to evaluate the scope and utilization of current classrooms and recommend a revised portfolio. Read more.
Research Space
This group developed guiding principles for research space at the Parnassus Heights campus. The group recognizes the "unique opportunity to create an integrated campus at Parnassus Heights comprising cutting-edge patient care, world-class biomedical research and highest standard education programs in life sciences and health professions." Read more.
Seismic Program Renovations
UC San Francisco's Long Range Development Plan (LRDP) was approved by the University of California Regents in late 2014. With this momentum, UCSF began to focus its attention on the Parnassus campus to address critical structural issues as one of the many phases of implementing the LRDP. The first objective is to seismically retrofit and renovate Clinical Sciences Building (CSB) by 2019.