UCSF Wayne and Gladys Valley Center for Vision
This facility will house a new Wayne and Gladys Valley Center for Vision with ophthalmology clinics as well as teaching, research, conference, and administrative space for various UCSF units currently located at multiple sites. The building consists of three wings: a 12-story tower; a five-story south wing; and a three-story north wing with a rooftop garden. It is located in Mission Bay, on the corner of Third and 16th Streets.
Construction Resources
Occupant Resources
High Level Building Timeline
See Occupant resources page for Furniture Resources, Committee Presentations and more!
Coming soon: Link to the Wayne and Gladys Valley Center for Vision Occupant website
Location
click on map to download pdf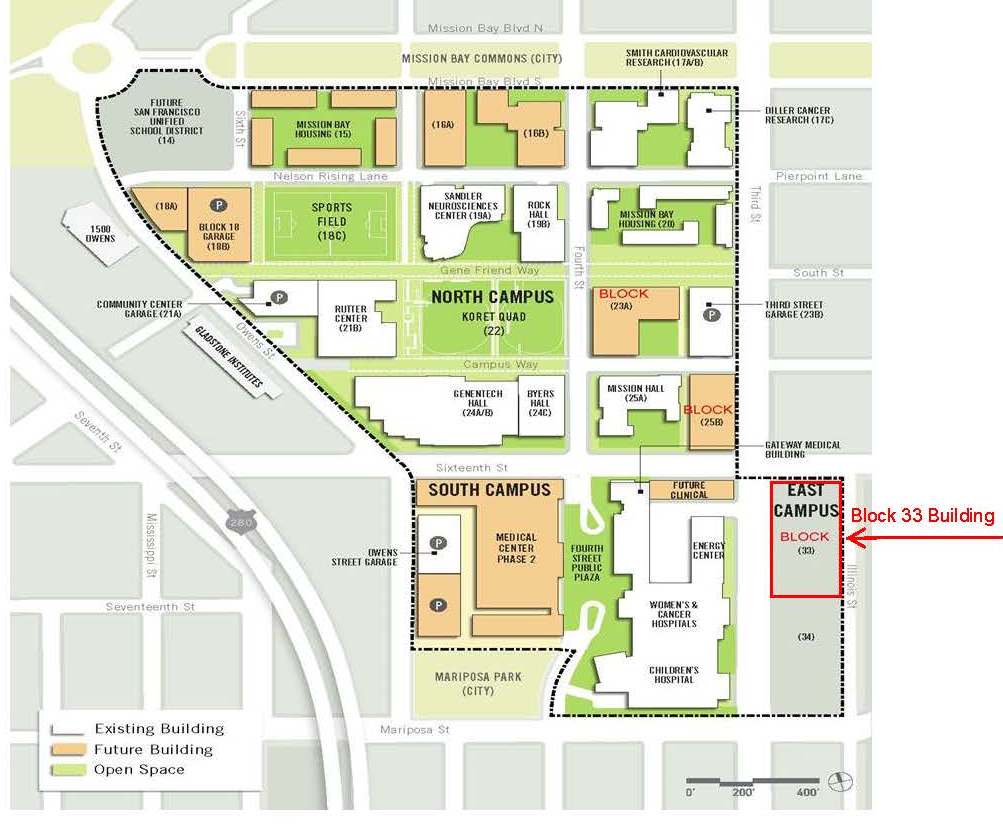 The Mission Bay Block 33 Building Programming Committee was charged with providing advice and recommendations on building-wide programming issues to guide development of the building. The programming committee reports to the UCSF Space Development Committee, which oversees development of new UCSF buildings to be constructed in the Mission Bay area.
The Programming Committee began meeting in October 2015.
Members
Michael Bade, Co-Chair, Associate Vice Chancellor and Campus Architect, Capital Programs
Bruce Wintroub, Co-Chair, Vice Dean, School of Medicine
Nisha Acharya, Professor, Ophthalmology
Claire Brindis, Professor and Director, SOM Institute for Health Policy Studies
Atul Butte, Professor and Director, Institute for Computational Health Sciences
Steve Downs, Executive Director, University Development and Alumni Relations
Jacque Duncan, Professor, Ophthalmology
Michael Fortes, Manager, University Relations
Kathy Giacomini, Professor, School of Pharmacy, Drug Development/CERSI
Thomas Lietman, Professor and Director, Ophthalmology, Proctor Foundation
Ron Lipsy, Assistant Director, Medical Center Strategic Development
Bonnie Maler, Associate Dean, SOM Dean's Office
Wendy Max, Professor and Director, School of Nursing, Institute for Health and Aging
Stephen McLeod, Professor and Chair, Ophthalmology
Chuck McCulloch, Professor, Epidemiology and Biostatistics and Academic Senate Representative 
Patrick McGee, Senior Project Manager, Capital Programs
Maric Munn, Director, Facilities Services
Suzanne Murphy, Director, Executive Vice Chancellor/Provost Office
Ayman Naseri, Professor, Ophthalmology
Michael Nordberg, Associate Dean, School of Pharmacy, Dean's Office
Maria Novelero, Associate Chair, Department of Medicine
Alejandra Rincon, Chief of Staff, Vice Chancellor of Diversity and Outreach
Bob Rhine, Director, Budget and Resource Management
Don Rudy, Deputy Campus Architect, Capital Programs
Janet Shim, Chair, Deptment of Social And Behavioral Sciences
Karin Wong, Director, SOM Dean's Office